Bioethicist gives inaugural Shankweiler Fellowship
Johns Hopkins University faculty member Travis Rieder spoke about his personal experience with opioid addiction and what to remember for future healthcare professionals.
By: Nicolas Savo '22
Tuesday, October 19, 2021 2:06 PM


Bioethicist Travis Rieder delivers the Shankweiler Scholars' inaugural lecture. Photos of Tom Amico
Travis Rieder, bioethicist and faculty member at Johns Hopkins University, opened his Oct. 7 campus lecture with a euphemism: "The healthcare system in America has some problems.
His speech, "In Pain: A Bioethicist's Personal Struggle With Opioids," was the first Shankweiler scholars conference. In the Miller Forum in Moyer Hall, he shared his story with the community of Muhlenberg: In 2015, while riding his motorcycle, he was struck by a vehicle on his left side. Her left foot was destroyed in the crash, and her body took months to heal. The only thing that got her through the pain was the opioids.
"Opioids are a boon when you have severe, sharp pain," he said.
Yet Rieder became dependent on opioids in the hospital. When he was released, his doctor put him on a decreasing diet that reduced his opioid use by 25 percent each week. When Rieder attempted to follow the diet, he suffered debilitating withdrawal three times in a month.
"Withdrawal is like a vise that keeps twisting," he said, adding that he couldn't find a doctor to help him manage the withdrawal. In the most difficult times, he felt his only options were drug addiction or suicide. What he took away from the experience was that if it happened to him, it must also happen to other patients.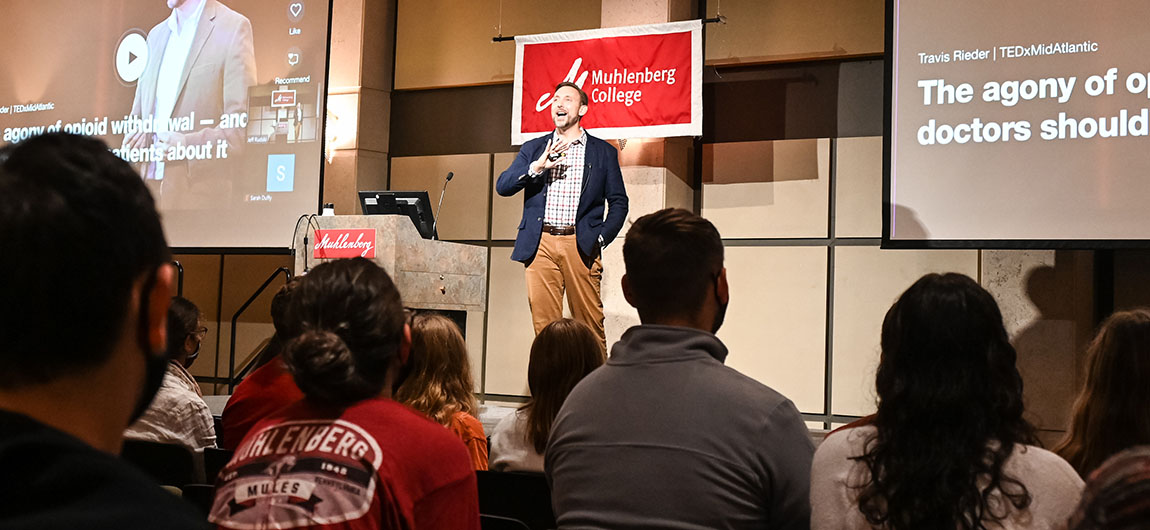 "My problem is that the doctors let this happen," he said. The people whose job it is to save others were at the origin of these very dangerous situations and denied their responsibility.
He went on to share "three lessons. First, stopping medicine is morally different from not starting it. Second, stopping the drugs has to be someone's job. Third, the job isn't always dealing with drug addiction, but maybe it is.
He concluded by acknowledging the increase in opioid-related deaths during the pandemic, advocating for the use of safe injection sites and stressing the importance of Narcan, a drug that can save the life of a person who overdosed on opioids. A question-and-answer session followed his speech.
"Our Shankweiler Scholar cohort spent the 2020-2021 academic year studying drugs and the opioid crisis in America with the goal of better understanding one of the significant gaps in healthcare in the United States," says Giulia Gerschel '23, a major in biology and Minor in French and French studies. "As a group of students who aspire to become healthcare professionals, Travis Rieder's intervention fulfilled the mission of the program by combining what we discussed at last year's seminar and the goal of more wide to improve our future career. Travis Rieder broke down the complex topic into easy-to-understand components and used his own personal experiences (and his human nature) to shed light on the flaws in the system and make it easier for each individual to connect with the issue at hand.